Hello, friends, and welcome to the weekend. Ready for some brunch?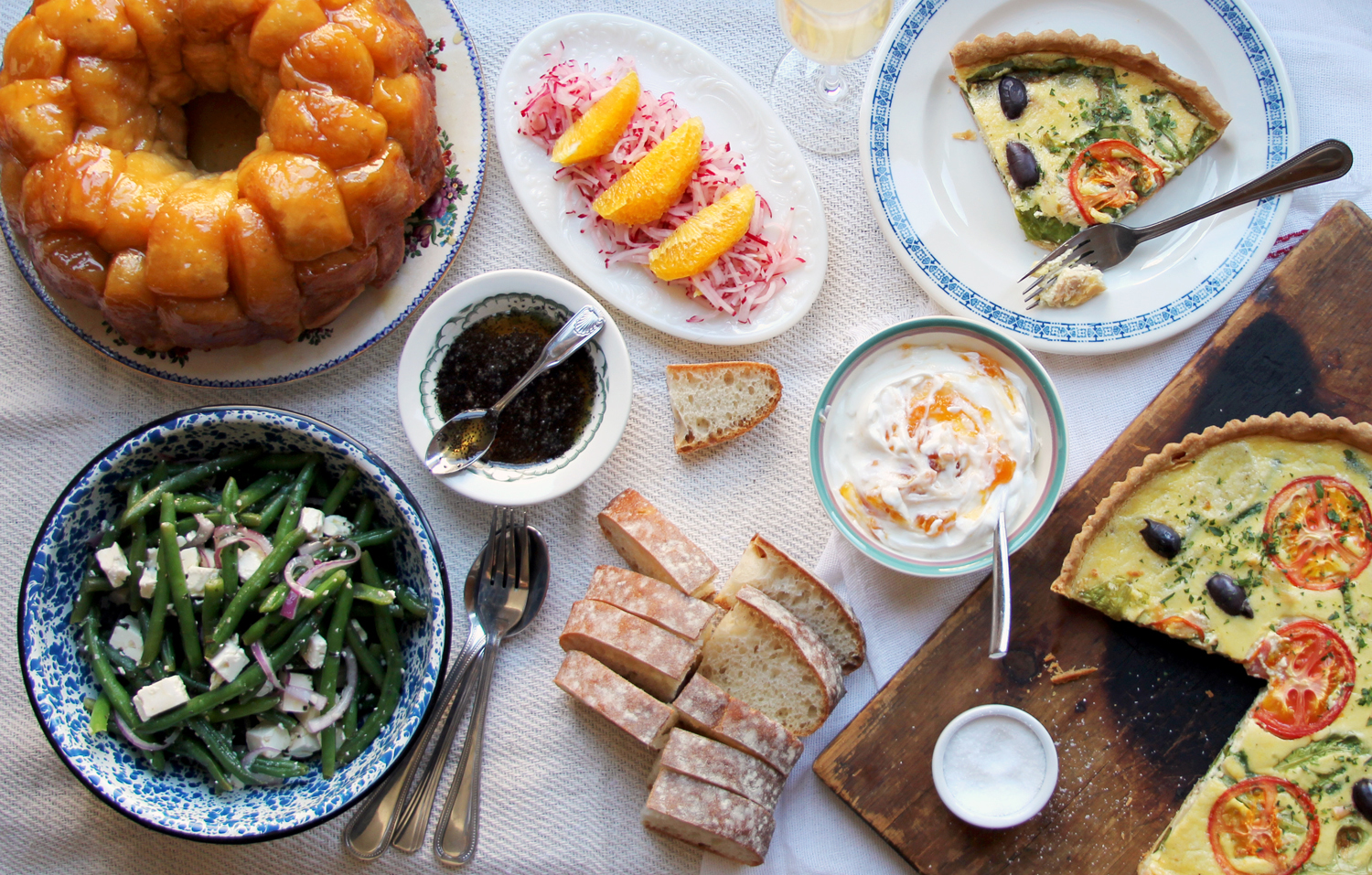 You know what I love about going to a brunch? Surprises. Brunch is unpredictable. They might serve you roast beef, they might serve you eggs Benedict, they might serve you French Toast. You just never know. There is a "suprise" element. Well, we're going to play on that theme today. Today is all about surprises.
Of course the big surprise of the week came when Anthony Kennedy unexpectedly resigned from the Supreme Court. Though he is 81, he had given no indication of his intention before this week. Many people were not exactly thrilled with this surprise. Seth Meyers tried to talk him out of it: "Justice Kennedy, what are you doin' retiring, man? You have a great job where you barely work, you get to wear a robe all day and give your opinions on stuff. That basically is retirement. Stick around, at least until we get a new president. Six months tops."
When Trump was asked whom he would nominate to replace the judge, he responed, "I dunno yet. Leaning toward either Simon Cowell or Adam Levine".
New trend: surprising your dog. Also called the Whatthefluff challenge. Here's the basic idea:
Election shocker: Alexandria Ocasio-Cortez, a 28-year-old Latina running her first campaign, ousted 10-term incumbent Rep. Joe Crowley in New York's 14th congressional district on Tuesday. An activist and member of the Democratic Socialists of America, Ocasio-Cortez won over voters in the minority-majority district with a ruthlessly efficient grassroots bid, even as Crowley — the fourth-ranking Democrat in the House — outraised her by a 10-to-1 margin. Crowley had served in Congress for 20 years, and the polling only weeks earlier had not been in Ocasio-Cortez's favor.
Surprise in the World Cup: Germany is out! The defending champs shocking failed to make it out of the group stage, the first time that has happened since 1938. They lost to South Korea 2-0, which allowed Mexico to advance. A few of the headlines from Germany: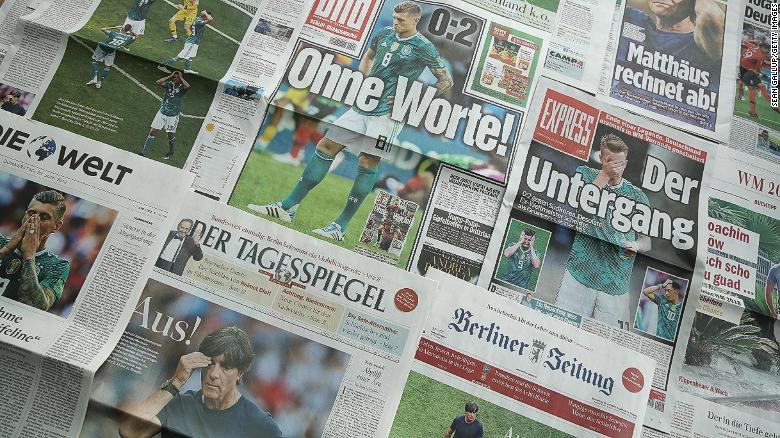 Other countries, of course, reveled in the Schadenfreude. Brazil's Fox Sport tweeted one word:
A joint Mexico-Sweden Chorus arose: "Bye-Bye Germany"
For Mexican fans, there was a party and South Koreans were invited. Germany's defeat meant Mexico advanced for the seventh time in a row since 1994. In response, hundreds of jubilant Mexican fans rushed to the South Korean embassy in the capital. They chanted "Corea, hermano, ya eres Mexicano," which translates to "Korea, brother, you're now Mexican." Mexican fans rushed to thank the ambassador personally, and forced him to down tequila shots.
Of course, some people just got plain mean:
Cannabis Surprise
: Voters in Oklahoma [that's right, Oklahoma] on Tuesday elected to legalize medical marijuana, which makes the state the 30th to allow the use of cannabis for medicinal purposes. The measure is also relatively unique in that it 
doesn't tie
 medical marijuana to any specific qualifying conditions, which will likely make it easier, compared to other states, to obtain pot for medicinal uses. 56 percent of voters supported medical marijuana, while 43 percent opposed it.
According to a new study, older people who have sex regularly tend to have better memories. I had something witty to add here, but I forgot what it was…
This surprised me: The percentage of U.S. multiracial congregations almost doubled between 1998 and 2012, from 6.4 percent to 12 percent, according to a study published in June in the Journal for the Scientific Study of Religion. In the same period, the percentage of U.S. congregants attending an interracial church has reached almost one in five, advancing from 12.7 percent to 18.3 percent. The 2012 statistics are the latest available.
Bus driver surprise:
Most people seem to think that the meaning of "science" and what disciplines are scientific are pretty much agreed upon. Surprise. The people that think most deeply about this (scientists and philosophers of science) have long struggled with these questions. What makes science science? Daniel Sarewitz attempts to answer the question in the latest issue of The Weekly Standard:
What separates science from other intellectual activities? The search for a distinctive logical structure of scientific inquiry and for the essence of scientific truth goes back at least to David Hume's concerns with the limits of inductive inference (does the fact that the sun rose yesterday mean that it must rise tomorrow?) and has been pursued along a variety of philosophical lines. Perhaps best-known among such efforts is the falsifiability criterion devised by the Austrian-born philosopher Karl Popper, according to which science should be recognized not by the evidence it garners on behalf of one proposition or another (supporting evidence can be found for pretty much any proposition) but by the types of questions it asks—questions that can be empirically contradicted. 'In Lost in Math, however, Sabine Hossenfelder, a physicist who is funny and writes with that slightly oblique flair sometimes found in totally fluent nonnative English writers, learns at a scientific conference that Popper's idea that scientific theories must be falsifiable has long been an outdated philosophy. I am glad to hear this, as it's a philosophy that nobody in science ever could have used . . . since ideas can always be modified or extended to match incoming evidence.' Exactly.

What, then, joins Hossenfelder's field of theoretical physics to ecology, epidemiology, cultural anthropology, cognitive psychology, biochemistry, macroeconomics, computer science, and geology? Why do they all get to be called science? Certainly it is not similarity of method. The methods used to search for the subatomic components of the universe have nothing at all in common with the field geology methods in which I was trained in graduate school. Nor is something as apparently obvious as a commitment to empiricism a part of every scientific field. Many areas of theory development, in disciplines as disparate as physics and economics, have little contact with actual facts, while other fields now considered outside of science, such as history and textual analysis, are inherently empirical. Philosophers have pretty much given up on resolving what they call the 'demarcation problem,' the search for definitive criteria to separate science from nonscience; maybe the best that can be hoped for is what John Dupré, invoking Wittgenstein, has called a 'family resemblance' among fields we consider scientific. But scientists themselves haven't given up on assuming that there is a single thing called 'science' that the rest of the world should recognize as such.

The demarcation problem matters because the separation of science from nonscience is also a separation of those who are granted legitimacy to make claims about what is true in the world from the rest of us Philistines, pundits, provocateurs, and just plain folks. In a time when expertise and science are supposedly under attack, some convincing way to make this distinction would seem to be of value. Yet Hossenfelder's jaunt through the world of theoretical physics explicitly raises the question of whether the activities of thousands of physicists should actually count as 'science.' And if not, then what in tarnation are they doing?"
Wait for it…(it's worth it)
A Restoration Surprise: Six years ago, a well-intentioned woman's attempts to restore a fresco of the scourged Christ in a church in the north-eastern Spanish city of Borja went viral, with her efforts dubbed "the worst restoration in history". Perhaps you've seen the before and after pictures of what is now called, "Monkey Christ": 
Well, that didn't turn out well…But surely since then people who have authority over precious historical works of art have learned to only give restoration privileges to professionals, right? Especially in Spain, right? Surprise! For 500 years, the painted wooden effigy of St George that adorns a chapel in the Spanish town of Estella has been locked in a silent struggle against his old foe, the dragon.
Parish authorities decided George needed to be freshened up, and so they hired…wait for it…they hired…a local handicrafts teacher. The result has not exactly won unanimous applause:
The mayor is pissed. ""The parish decided on its own to take action to restore the statue and gave the job to a local handicrafts teacher. The council wasn't told and neither was the regional government of Navarre. It's not been the kind of restoration that it should have been for this 16th-century statue. They've used plaster and the wrong kind of paint and it's possible that the original layers of paint have been lost. This is an expert job it should have been done by experts." Apparently the mayor doesn't like surprises.
Quick, which country has the world's smallest dessert? The answer may surprise you.
Photographer Darren Pearson this month captured this surprising shot: incredible long exposure shot of lightning striking a tree.
Well, that's it for this week. How about some surprise gifs?