Hello, friends, and welcome to the weekend? I'm filling in for good Chaplain Mike today. Ready for some brunch?
As usual, we've got some silly stuff, some serious stuff, some pop culture stuff. Skip what you want (it's Brunch!), but let's start with some lighter fare.
"At this time, we do not have information on the health implications or effects of 'sedating' lobsters with marijuana." Not a sentence you read every week. It was uttered by  Emily Spencer, a spokeswoman for the Maine's Department of Health and Human Services. Ms. Spencer was responding to the practice of Charlotte Gill, the owner of Charlotte's Legendary Lobster Pound in Southwest Harbor, who has lately been getting lobsters high before they are dumped in a pot of boiling water. Ms. Gill says the weed takes the lobster's stress and fear away. But the state is warning her to slow her roll. Ms. Spencer says serving lobster high would make them "adulterated and therefore illegal". No word on how they get the lobsters to hold the joint with their claw.
Speaking of weed, Coca-Cola might be working on a drink that's infused with marijuana. They promise they're still going to put your name on the side of the can (cause it's the only way you'll remember it). Apparently the marketing department is already working on some graphics:
Christians in the U.S. and Europe are very different animals. While, on paper, The U.S. and Western Europe have similar religious attributes, in practice the divergence could scarcely be larger. Most people on both sides of the Atlantic say they are Christian, for example. At the same time, substantial shares in the U.S. and Europe say they are religiously unaffiliated: Roughly a quarter of the American adult population identify as "nones" (23%), similar to the shares in Germany (24%), the United Kingdom (23%) and other Western European countries. But when you look at what people actually do, the difference is startling:
In fact, by several measures of religious commitment, religiously unaffiliated people in the U.S. are as religious as – or in some cases even more religious than – Christians in Western European countries. For example, while 20% of U.S. "nones" pray daily, only 6% of Christians in the UK do so. And religiously unaffiliated Americans are about twice as likely as German Christians to believe in God with absolute certainty (27% vs. 12%).
Scientists have announced plans to build a genetic Noah's Ark which will contain genetic information from 66,000 species, beating the previous record held by the sheets at Motel 6.
This is very interesting (and very under-reported): A study released this month showed that the more often a Trump voter attended church, the less white-identitarian they appeared, the more they expressed favorable views of racial minorities, and the less they agreed with populist arguments on trade and immigration. The survey was conducted by the Cato Institute's Emily Ekins for the Voter Study Group, who analyzed the views of Trump voters based on their frequency of church attendance — from "never" to "weekly" or more often. Here are the key findings, and then some graphs they published:
Donald Trump voters who attend church regularly are more likely than nonreligious Trump voters to have warm feelings toward racial and religious minorities, be more supportive of immigration and trade, and be more concerned about poverty.
Statistical tests indicate that Trump voters who attend church regularly are significantly more likely than nonreligious Trump voters to have favorable attitudes toward black people, Hispanics, Asians, Jews, Muslims, and immigrants, even while holding other demographic factors, such as education, constant.
Statistical tests find no significant difference in effects between Protestant and Catholic church attendance among Trump voters.
Religious Trump voters have higher levels of social capital: They are far more likely to volunteer, to be satisfied with their family relationships and neighborhood, and to believe the world is just and that people can be trusted.
Other findings:
Trump voters who frequently attend religious services have a much more positive view of immigration than those who do not attend church.
Opposition to capital punishment rises with church attendance. Very frequent churchgoing Trump voters are about two and a half times as likely as secular Trump voters to oppose the death penalty.
Religious Trump voters are more concerned about poverty than are nonreligious Trump voters. Trump voters who attend church at least once a week are nearly twice as likely as secular Trump voters to say that poverty is a "very important" issue to them (42 percent vs. 23 percent).
Religious Trump voters are more likely than nonreligious Trump voters to do volunteer work. For instance, while 61 percent of very frequent churchgoers among Trump voters volunteered at least once in the past 12 months, only 20 percent of secular Trump voters did.
How, then, exactly, did Trump get elected? Two factors seem to be in play. First, many of the church goers did not base their vote on the beliefs they held on these issues. Second, most of Trump's supporters are simply not frequent church attenders. From the same survey of Trump voters:
Only about a third of Trump's 2016 voters are in church on a typical Sunday, and 60 percent attend church less than twice a year.
Looking at the data, the researchers speculate that private institutions like churches "may serve an important function in reducing polarization and racial tensions and helping people find common ground." But that influence is waning as society secularizes.
Nancy Crampton-Brophy is the author of How to Murder your Husband. She was arrested last week. For murdering her husband.
Tired of your job and bored with America? There's an English bookstore in Florence for sale. It's located "on the ground floor of a beautiful, historic, well-maintained building in the very center of Florence—literally in the shadow of the Duomo." Sounds delightful.
By the way, the bookstore, Paperback Exchange, is so iconic that it was featured in Dan Brown's recent blockbuster, Inferno. Last year my daughter and I took a trip to Rome and Florence (her college graduation present), and I wanted an easy read for the plane ride. I picked up Inferno, as it is mostly set in Florence and I thought it would give me insight into some of its secrets. Mistake. Big Mistake. It was, without doubt, the absolute worst book I have ever read in my 56 years. The poor character development was matched by the ridiculous plot and vile message (yes, it was very much a book with an agenda).  I do believe an average High School Junior could have written a better book (especially with an editor). Which makes me wonder: How on earth do novels like this not only get published but become best-sellers?
Related question: What is the worst novel you have ever read?
Photo: The best photo from the 2017 total eclipse (and the story behind it)
Yuck: A recent poll shows when asked what their favorite Mexican restaurant is, Americans overwhelmingly said Taco Bell.  By the way, two things happened right after this announcement. First, Mexico offered to pay for the wall after all. Second,  Pepto-Bism0l stock jumped fourfold.
Have you heard of Mark Taylor? He's the self-appointed firefighter prophet who claims God told him, way back in 2011, that Trump would win the White House. One problem: he said this about "this next election", that is, in 2012. Whatever, Mark's apparently still gets inside info about hidden truths and future events. Some of them, I'm sure, will fascinate and enlighten you:
Last week, Taylor declared that the late Sen. John McCain had not died of brain cancer but had actually been executed by a military tribunal. Oh. Also, McCain was the head of ISIS. Who knew? Taylor further claimed that the "deep state" opposes Brett Kavanaugh's confirmation to the Supreme Court because they know that he will support President Trump's use of military tribunals against the likes of Barack Obama and Hillary Clinton.
We both know that John McCain was executed under military tribunals. Which is another reason why Judge Kavanaugh, they're screaming so loud. They're trying to disguise it that it's abortion that they're worried about; that's not what they're worried about. They want a solid 5-4 vote for military tribunals … It's the military tribunals [they're worried about] because they know it's going to cost them lives and they're going to be executed.

When you watched John McCain's funeral and you saw the entire cabal right there in one spot. These people weren't smiling. [Hey, Mark: it was a funeral] They knew John McCain was a prophetic marker in time that we have moved from judgment to justice is now being served. Period. And they know it and they know that if they don't do something to stop this, they're next. John McCain was the number three guy—you've got Barack Obama being number one, Hillary Clinton being number two, and John McCain being number three. So if they can take down the head of ISIS, John McCain, the number three guy out of all of this, they know they're next. That's why they're scared to death, that's why they're screaming.
Now why do I bring all this up? Because, you, dear reader, can actually watch a movie in a couple weeks about this fascinating prophet. The Trump Prophecy will come out October 2. Here's the kicker: the movie glorifying this false-prophet is produced in part by…wait for it…Liberty University.
Republican leaders in suburban Houston have apologized for an advertisement likening the Hindu deity Ganesha to the GOP's elephant symbol amid a congressional race featuring an Indian-American Democrat. The ad was published last week in a newspaper popular with area Indian-Americans. It wished Hindus a happy Ganesh Chaturthi, or festival celebrating the elephant-headed Ganesha's birth, asking, "Would you worship a donkey or an elephant?" The Hindu American Foundation was kinder than I might have been: "While we appreciate the Fort Bend County GOP's attempt to reach out to Hindus on an important Hindu festival, its ad — equating Hindus' veneration of the Lord Ganesha with choosing a political party based on its animal symbol — is problematic and offensive."
Hillsong Church is now leaving its denomination to form itself as its own global denomination.
A small town in Missouri recently launched a newspaper called The Examiner. Seems a legit name for a newspaper, no? But Mayor Luge Hardman thinks the name stinks. "I'm sorry, but the innuendo of that title puts my city up for public ridicule, and I will not be a part of it," Hardman said. Wait, what's the problem? Well, the village is called — I promise this is real — Uranus. So the newspaper that they launched is The Uranus Examiner. Mayor Luge feels this will make the area the butt of jokes, and create a stain on Uranus: "I think that the Pulaski County Examiner, for example, would have been a real hit." Well, I can't imagine any of us mature adults making fun of this. Not when the town is rightfully proud of so many other things: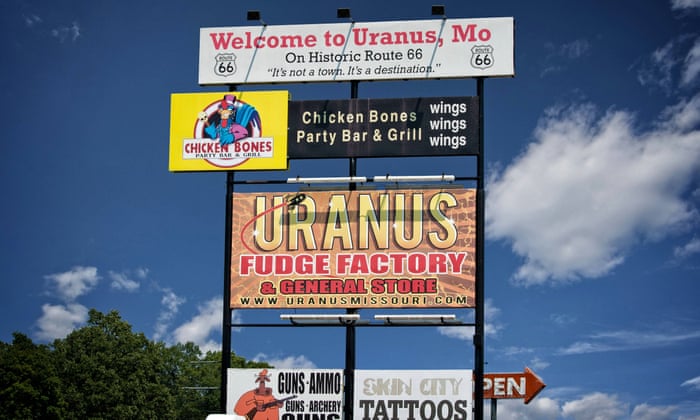 What has happened to ecumenism? Michael Root gives his take in First Things:
Fifty years ago, ecumenism could make grown men cry. Now it is mundane.

Many reasons can be given for the dampening of the ecumenical excitement of two generations ago. The mainstream Protestantism that had been a driving force of the ecumenical movement has declined precipitously in recent decades. Traditional church-dividing issues—infant baptism, the presence of the body and blood of Christ in the Eucharist—can seem arcane not just to the laity, but even to a church leadership that is far less theologically attuned than it was in the recent past. Church unity can seem irrelevant to church life, and ecumenical texts are often written by committees—a recipe for boring prose.
The whole essay is a very interesting long read. You can find it here.
While touring hurricane damage in North Carolina this week, President Trump said, "This is a tough hurricane. One of the wettest we've ever seen from the standpoint of water." I really shouldn't have to tell you by now that I did not make that quote up.
Grace Cathedral, an Episcopal church  in San Francisco, recently garnered headlines for holding a Beyoncé-mass. Last week, as part of the multiday Global Climate Action Summit they held a worship service featuring individuals portraying giant tree people. Which is fine, I guess. But I wouldn't be able to get past waiting for them to storm Isengard.
Well, that's it for this week.  Let's conclude with some pictures of people practicing faith around the world (photos courtesy of Religion News Service).