Hello, friends, and welcome to the weekend. You know what we haven't had for a while? BRUNCH! Let's get right to it.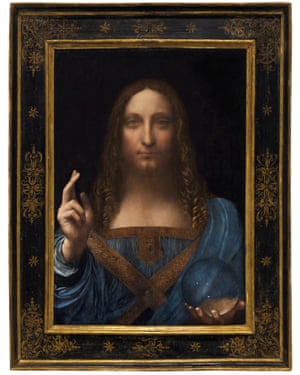 Remember when the Salvator Mundi, the supposed lost work of Leonardo da Vinci, sold a couple years ago for a record $450 million? Well, the speculation now is that it was a tad overpriced. How much is a tad? In this case, $448 million. What gives? Well, it seems more and more experts are doubting that Leonardo actually painted it. It was due to be lent to the Louvre in Paris this year for its big Leonardo show marking the 500th anniversary of his death. But the piece has now been rejected because because curators at the Louvre do not believe it can be attributed solely to the artist, it has been claimed. Ben Lewis, an art historian and writer who charted the story of the piece's recent discovery, notes:
"My inside sources at the Louvre, various sources, tell me that not many curators think this picture is an autograph Leonardo da Vinci.

"If they did exhibit it … they would want to exhibit it as 'workshop'.

"If that's the case, it will be very unlikely that it will be shown, because the owner can't possibly lend it … the value will go down to somewhere north of $1.5m (£1.2m)."
By the way, how do you think the person who spent nearly half a billion on a fake Da Vinci feels right now?
Next up is a piece in Aeon where the writer puzzles the therapeutic conundrumof what comes first—happiness or success:
"Work hard, become successful, then you'll be happy. At least, that's what many of us were taught by our parents, teachers and peers. The idea that we must pursue success in order to experience happiness is enshrined in the United States' most treasured institutions (the Declaration of Independence), beliefs (the American dream), and stories (Rocky and Cinderella). Most people want to be happy, so we chase success like a proverbial carrot on a stick – thinking that contentment lurks just the other side of getting into college, landing a dream job, being promoted or making six figures. But for many chasers, both success and happiness remain perpetually out of reach. The problem is that the equation might be backwards. Our hypothesis is that happiness precedes and leads to career success – not the other way around. In psychological science, 'happiness' relates to 'subjective wellbeing' and 'positive emotions' (we use the terms interchangeably). Those with greater wellbeing tend to be more satisfied with their lives, and also to experience more positive emotions and fewer negative ones. Research suggests that it's these positive emotions – such as excitement, joy, and serenity – that promote success in the workplace.
You know what we need for this brunch? Panda pictures. Nothing is cuter than a panda. Let's start with this rarity:
These are the first-ever documented images of an albino giant panda.  China's Sichuan Wolong National Nature Reserve Administration shared photos of the all-white panda on May 25. The color does not affect the animal's activity or reproduction but it could make it sensitive to direct sunlight, the nature reserve writes.
Just for fun, we're going to add a few more, with captions.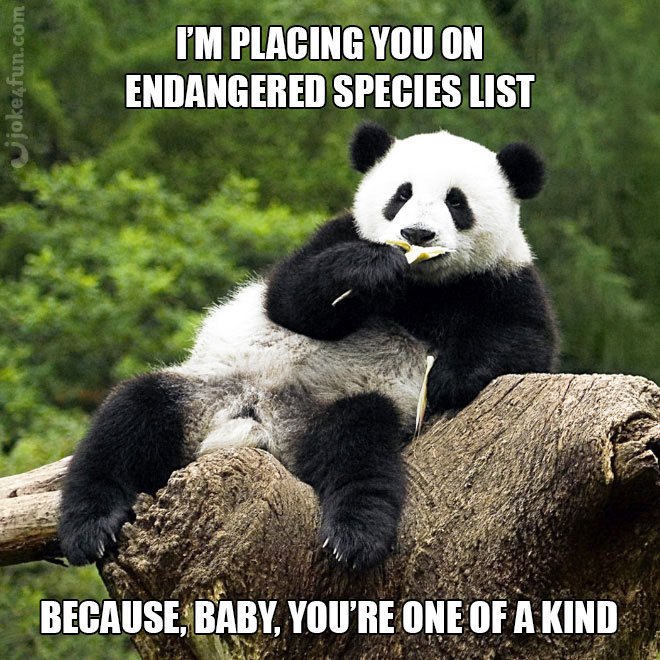 Ever wished for a "point of contact" with God? I mean, a point of contact besides Jesus and the Holy Spirit. Obviously. Ever wished you could get one for the low, low price of $45? Well, now you can! That's right folks: for the price of a half dozen cappuccinos from Starbucks you can know own a genuine point of contact with God!!!
But wait, it gets better. This point of contact comes in the form of a coin featuring two famously godly men: Cyrus the Great, and Donald Trump.
The coin is being sold by Lance Wallnau. He claimed God told him to share the coin so people could pray for Trump. "When I asked the Lord, 'Why the coin?' he said 'Because when you take the coin, it's a point of contact,'" Wallnau is heard saying on the Jim Bakker show. "So your faith is being released with a million other believers to pray protection and peace and wisdom and counsel over the president of the United States and over his family….It's our point of contact every day. When you see it remember God put something in your hand that you have a role in."
I wonder how many of these coins it would take to melt down and create an image more appropriate to this kind of religious attitude? Something like this, maybe? 
Did you get your 10,000 steps in yesterday? They say that's the goal, you know, along with drinking eight glasses of water a day and eating 2,000 calories. But who are "they"? Turns out, at least for the first of these, the "they" is marketers, not scientists:
I-Min Lee, a professor of epidemiology at the Harvard University T. H. Chan School of Public Health and the lead author of a new study published this week in the Journal of the American Medical Association, began looking into the step rule because she was curious about where it came from. "It turns out the original basis for this 10,000-step guideline was really a marketing strategy," she explains. "In 1965, a Japanese company was selling pedometers, and they gave it a name that, in Japanese, means 'the 10,000-step meter.'"

Based on conversations she's had with Japanese researchers, Lee believes that name was chosen for the product because the character for "10,000" looks sort of like a man walking. As far as she knows, the actual health merits of that number have never been validated by research.
So how many steps should be our goal? Lee designed a test by observing the step totals and mortality rates of more than 16,000 elderly American women. "The basic finding was that at 4,400 steps per day, these women had significantly lower mortality rates compared to the least active women," Lee explains. If they did more, their mortality rates continued to drop, until they reached about 7,500 steps, at which point the rates leveled out." So there you go.
Taco Bell announced plans this month to open a hotel. No, I'm not kidding.  Taco Bell's Chief Brand Officer Marisa Thalberg said that the idea for a Taco Bell-themed hotel is meant to be playful and fun, but the brand sincerely intends for it to be an "unparalleled experience." She added, "I have often quipped that Taco Bell is the fast fashion of food. We have our everyday classics, but then we're always introducing these cool limited-edition experiences to do something new and different." Yes, Taco Bell foods often do something new and different to my digestive system.
Hopefully each hotel room will have double bathrooms.
I recently ran across a website of a guy who makes balloon creations. He notes, "I create animals, plant life and insects using only balloons. The works that has been published on this page are made from all balloon only. (Adhesive, marker pen, seal, etc. are not used at all) ". Hmmm. Well how good can they really be?
Yeah, so not very good at all.  I could do far better.
An op-ed in the New York Times discussing a study of married couples acknowledges that the happiest wives by far in America are those in politically conservative, religious marriages. The study, conducted by a professor of sociology at the University of Virginia, a professor of marriage and family studies at Brigham Young University, and an adjunct lecturer in the sociology department at Georgetown University, found that 73% of wives "who hold conservative gender values and attend religious services regularly with their husbands have high-quality marriages." Also: "Women in highly religious relationships are about 50% more likely to report that they are strongly satisfied with their sexual relationship than their secular and less religious counterparts."
That figure dwarfs the numbers in less religious and conservative marriages. The authors write that only a little more than half (55%) of secular progressive wives in the United States, who are not religious and champion egalitarian family values, say they have high-quality marriages. The oped notes, "fewer than 46 percent of wives in the religious middle — who attend only infrequently or don't share regular religious attendance with their husbands — and only 33 percent of secular conservative wives — who think men should take the lead on bread-winning and women on child-rearing but don't attend church — have such marriages."
Oh, and how did the Times title this item? "Religious dads can be devoted, too".  Yeah. I'm surprised they didn't decide to add a few exclamation points.
"'Holy Spirit' saves German driver from speeding fine". I didn't expect to come across that headline on the BBC website.  Charisma, sure, but not the BBC. Anyway, it seems the driver was caught on speed cameras – but his identity was hidden by the bird's wings spread in flight.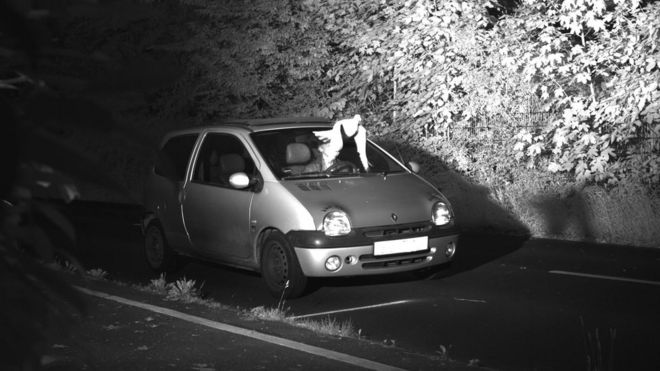 A light-hearted police statement suggested that perhaps "it was no coincidence the Holy Spirit" intervened -We have understood the sign and leave the speeder in peace this time."
Speaking of odd headlines, here are some recent ones. And, yes, these all came from real news sources (except for the one from Fox):
Texas Legislature Accidentally Repeals Plumbing Code
Gainesville man covered in chocolate syrup arrested for domestic battery, criminal mischief
Easter Island Statues Threatened By Nose-Pick Selfie-Snapping Tourists
'What did I do wrong?' Florida man asks after 140-mph chase, crash
Authorities: Don't give DNA to people who come to your house asking for it
Grenade found in Goodwill donation bin
Police: Man says wife died but he brought her on road trip anyway
Mom with sleep disorder claims she once unknowingly purchased a full-sized basketball court
On a more serious note, there will be live streaming of Rachel Held Evans' funeral today at 2:00 EST. Here is the link.
Let's conclude with some photos of the week, courtesy of the Atlantic: