Hello, friends, and welcome to the weekend. Part of this post actually came out yesterday. I apparently scheduled it for the wrong date.
I've been feeling light-hearted this week, so most of this post is in the same vein. Hope you don't mind my silliness.
Let's start with the sports. The NFL season got under way last week. Did you watch? I have to say that its getting harder and harder for me to get excited about football (what with all the concussions, commercialization and Patriots winning again). The ratings have declined the past few years; it will be interesting to see if that is a trend or a blip.
Are the Miami Dolphins tanking? Sure seems like it, since the had a fire-sale of their best players. After losing by almost 50 points in their opener, a lot of their remaining players were apparently calling up their agents, asking to be traded. On the plus side, they do have a cool new logo: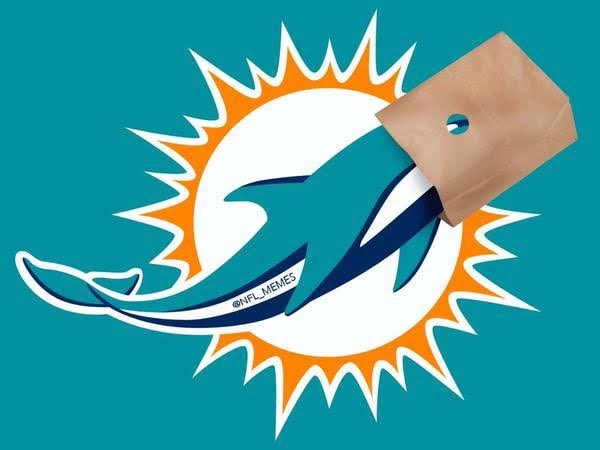 Also a plus: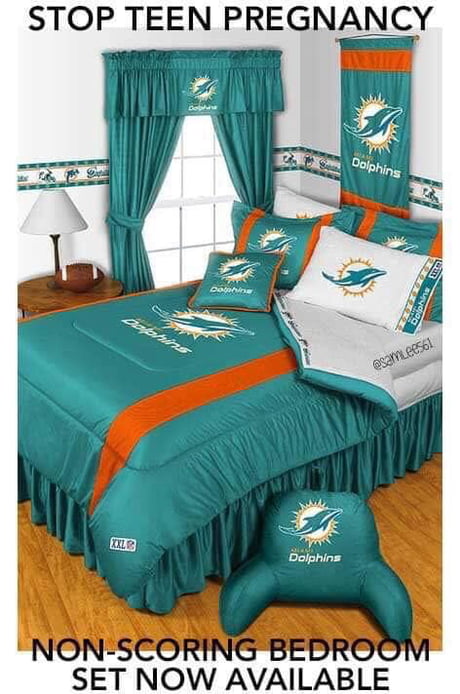 19-year Bianca Andreescu won the women's half of the U.S. Open, becoming the first Canadian to win Grand Slam singles title.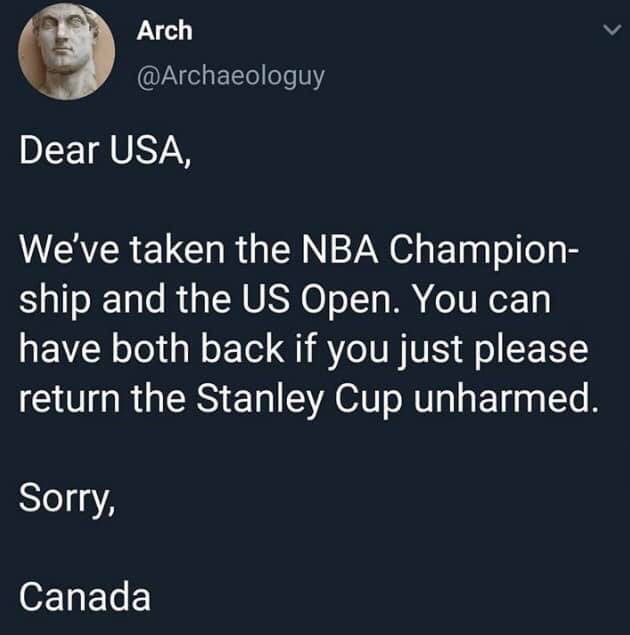 A Champion horse failed a drug test. Last year, Justify won the Triple Crown, one of the most storied achievements in sports. His owners later sold his breeding rights for $60 million. But The New York Times has learned that the colt failed a drug test and should not have run in the first Triple Crown race, the Kentucky Derby. Instead, the California Horse Racing Board took over a month to confirm test results, then quietly moved to drop the case and change its rules, retroactively clearing the horse.
Have you heard of the Mountain of Hell cycle race? Yeah, it seems you and 1,000 other race down a frozen mountain at speeds up to 130 kph.
Two thoughts on this next video: 1. That is a magnificent catch and teamwork. 2. This is the weirdest game of baseball I've ever seen.
Speaking of baseball, I'm not saying it's booooring…but you won't see this at a Rugby match:
How about a round of tag from a World Tag Chase tournament?
One last sport-related item: this is apparently a thing, now.
"Hasbro announced a new version of Monopoly" is a sentence you could write every week. What is it this time? Ms. Monopoly. In this version, women players get 20 percent more money at the startup and every time they pass GO. It is supposed to "start conversations" on sexism and the wage gap.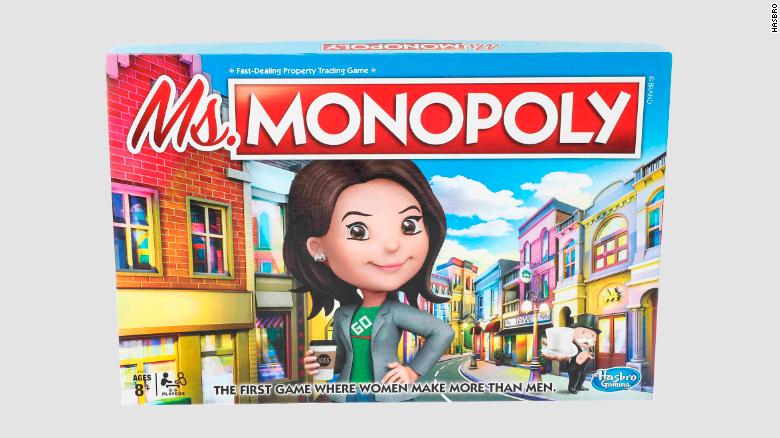 So basically you have a game which was strictly gender neutral, now giving a large advantage to one gender (with the implication that this gender could not compete otherwise). I…I just wish there was a word for a concept like that…
Mangayamma Yaramat really, really, wanted a baby. But it seemed destined not to be. Mangayamma and Raja Rao, an agriculturist, got married on March 22, 1962, and had been childless for the past 57 years. She could not succeed in her attempts to conceive even after visiting several hospitals. But she never gave up her desire to become a mother.
Mangayamma gave birth on Thursday, at age 74 (her husband is 80).She had twins, who were conceived via in vitro fertilization with her husband's sperm and a donor egg.
No jokes on this one, but just a question: Is this a good thing? What should be the cutoff age?
Is STEM ruining American education? Jared Woodard thinks so:
But the technology pushed into schools today is a threat to child development and an unredeemable waste. In the first place, technology exacerbates the greatest problem of all in schools: confusion about their purpose. Education is the cultivation of a person, not the manufacture of a worker. But in many public school districts we have already traded our collective birthright, the promise of human flourishing, for a mess of utilitarian pottage called "job skills."

Liberal arts education, which has always given a central position to mathematics and the sciences,2 will only be harmed by the recent push to "get more STEM in schools,"3 because today's STEM has only a cosmetic relationship with the sciences. STEM ideologues and real educators are pursuing very different goals. The purpose of edu­cation in the sciences is to cultivate children as knowers in and of the world. The purpose of STEM programs is just to create more of a certain kind of worker.

STEM ideologues and real educators are pursuing very different goals. The purpose of edu­cation in the sciences is to cultivate children as knowers in and of the world. The purpose of STEM programs is just to create more of a certain kind of worker.

Technology, even in the narrowest commercial sense, depends on the liberal arts—pursuits that are subject neither to the practical demands of society nor to its untrained desires—to provide the higher ends that technology serves, as well as the new thinking on which it is based. The blatant commercial wastefulness and impracticality of number theory, not to mention literature or playing the violin, offers hints that those pursuits are priceless rather than worthless.

The sciences and mathematics have a historic place in the curriculum, and technology does not, for the simple reason that the latter is not inherently "about" anything. Absent human contributions on specific topics, cut off from the subject matter of academic work, technology is nothing—an electron microscope without any samples, darkened VR goggles, an empty spreadsheet. Specializing in techne as such means trying to teach people to be good at "making" without having any idea of what to make, or why to make it.
Woodward concludes his essay with these penetrating words:
This fight is not just about jobs or middle-class college admissions hysteria. Joseph Ratzinger gave the most penetrating comment of all on what is at stake in a sermon that predates the internet and social media, delivered during Lent in 1973:

The machines that [man] himself has constructed now impose their own law on him: he must be made readable for the computer, and this can be achieved only when he is translated into numbers. Everything else in man becomes irrelevant. Whatever is not a function is—nothing.

The Common Core standards, adopted now in most states, include sets of functionalist requirements for meeting key goals. Many of the English language arts anchor standards, for instance, require that children cite evidence and write (and thus think) in patterns that can more easily be graded by computers.38 Here is the triumph of tech­nology over wisdom and learning: Submit to Tech in Every Matter. We are Eliot's human engines, humanity made readable for the computer.
A short history of baths in literature: "Baths are very comforting: gentler, calmer than showers. The slow clean. For a while, though, across a patch of nervous books in the mid-twentieth century, baths were troublesome. They were prone to intrusion and disorder. They were too hot, too small, too crowded with litanies of junk: newspapers, cigarettes, alcohol, razors."
Great article from the Babylon Bee: More E-Cigs Being Disguised As AR-15s To Avoid Ban
U.S.—According to a new report, more e-cigs are being disguised as AR-15s to avoid a looming White House ban on the devices.

Upon hearing that President Trump was looking to ban the devices, vaping companies quickly began looking for ways to circumvent the new regulations. Then, they came up with a solution: design the vapes to look like a hunting rifle.

The disguised devices include a switch for selecting a fire mode, from semi-auto and burst fire to "Sick Vape." The devices are fully functional AR-15 rifles. Should a federal agent ask if you have an illegal e-cig loaded with high-capacity Raspberry Hurricane cartridges, you can just turn down range and fire off a few rounds to show them it's actually just an assault rifle.
Also from the Bee: John Bolton Waves Goodbye, Returns To Sea To Be Walrus Again
Okay, that's it for this week. Let's close with some 2019 finalist pictures from The Comedy Wildlife Photography Awards. I've added some silly captions, but would love to hear yours in the comments.