Hello, friends, and welcome to the weekend. Ready for brunch?
You know what's funny? The pictures from Comedy Wildlife Photography Awards. You know what's funnier? Those same pictures mashed with Shakespeare quotes.
The awards are now in their fifth year. Last week we showed some of the 40 finalists for 2019. This week I would like to intersperse some of the pictures from that site, along with captions taken from the Bard. Because…why not? let's start with these two: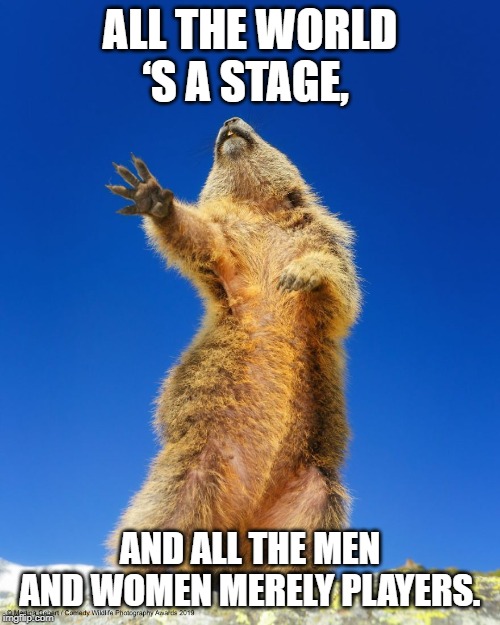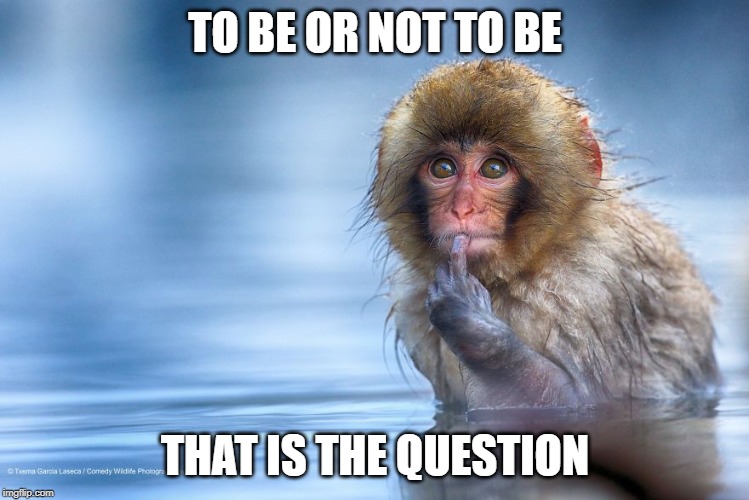 This is cool: scholars believe they have found John Milton's annotated copy of Shakespeare's First Folio: "The astonishing find, which academics say could be one of the most important literary discoveries of modern times, was made by Cambridge University fellow Jason Scott-Warren when he was reading an article about the anonymous annotator by Pennsylvania State University English professor Claire Bourne. Bourne's study of this copy, which has been housed in the Free Library of Philadelphia since 1944, dated the annotator to the mid-17th century, finding them alive to 'the sense, accuracy, and interpretative possibility of the dialogue'. She also provided many images of the handwritten notes, which struck Scott-Warren as looking oddly similar to Milton's hand."
That reminds me of a joke I heard some years ago:
Jimmy had decided to take a year off before starting college and to hitchhike around Europe with a friend.  After several weeks he called his dad to get him to send them more money .

"It's been more expensive than I thought over here Dad", Jimmy told his dad. "We got to Germany and we were dead broke."

"Well, do you have any money to eat until I can get more money to you?" Dad asks.

"Yeah", Jimmy replies. "We made a little money cleaning all the junk out of an old house for a guy. Man there were a lot of old papers and books and stuff in there. The guy said we could have anything of value we found, but it was all just junk."

"Oh?" Dad says. "You didn't find anything you could sell for a few Euros ?"

"Well, I almost kept this old bible that was in pretty good shape. It was really old. Published by some Gutenberg guy." Jimmy says .

"Gutenberg! Son, that bible was worth hundreds of millions of dollars if it was in good shape!" Dad exclaims.

"Wow! Well, this one probably wasn't worth that much" , Jimmy replies. "Some clown named Martin Luther had scribbled his notes all over the margins."
Speaking of Paradise Lost, an undergraduate student has discovered a secret message in Milton's epic poem. The hidden message is an acrostic, and spells out "FFAALL" and "FALL" — an appropriate triple-use of the word "fall," as the poem's subject is the Biblical story of the decline of Satan, as well as the banishment of Adam and Eve from the Garden of Eden.
*From his surmise prov'd false, find peace within,

*Favor from Heav'n, our witness from th'event.

*And what is Faith, Love, Virtue unassay'd

*Alone, without exterior help sustain'd?

*Let us not then suspect our happy State

*Left so imperfect by the Maker wise

*As not secure to single or combin'd.

*Frail is our happiness, if this be so
The asterisks mark the hidden message: Reading from top to bottom, Milton spelled out "FFAALL," likely representing the double fall of humanity represented by Adam and Eve. Reading from bottom to top, the poet spelled out "FALL," possibly a reference to Satan's descent from Heaven.
The new acrostic was found by Miranda Phaal, a Tufts University senior. In August, Phaal published an article about her discovery in the journal Milton Quarterly.
"This acrostic entwines the double fall of man (FFAALL) with the fall of Satan (a single FALL, read from bottom to top), perhaps commenting on their shared inciter—Satan—or their shared root—pride, …Milton uses the acrostic to foreshadow what will happen to Adam and Even. Ultimately, the acrostic distills the entire poem down to its essence: three contingent falls, two paradises lost."
Merriam-Webster has added a "non-binary" definition of "they," and the Oxford Dictionaries are reviewing its definitions after receiving a petition demanding it eliminate all entries that "patronize" women. The dictionary is also being asked to "enlarge the dictionary's entry for 'woman'." You see, the word "man" has 25 different usages, whereas "woman" only has five, and the petitioners are asking Oxford to increase the number of usages for "woman." I'm not sure that's how dictionaries work…
Want to burn 6,000 calories a day while barely moving? Play chess.
Robert Sapolsky, who studies stress in primates at Stanford University, says a chess player can burn up to 6,000 calories a day while playing in a tournament, three times what an average person consumes in a day. Based on breathing rates (which triple during competition), blood pressure (which elevates) and muscle contractions before, during and after major tournaments, Sapolsky suggests that grandmasters' stress responses to chess are on par with what elite athletes experience.

"Grandmasters sustain elevated blood pressure for hours in the range found in competitive marathon runners," Sapolsky says.

It all combines to produce an average weight loss of 2 pounds a day, or about 10-12 pounds over the course of a 10-day tournament in which each grandmaster might play five or six times.
Union Seminary in NYC is perhaps the best-known progressive, mainline seminary in the country, hosting such distinguished faculty as Dietrich Bonhoeffer in the past. Things got a little…unusual last week:
Union took a little heat for this. The school responded with a long twitter defense, saying it was "a beautiful ceremony", and concluding:
No one would have blinked if our chapel featured students apologizing to each other. What's different (and the source of so much derision) is that we're treating plants as fully created beings, divine Creation in its own right—not just something to be consumed. Because plants aren't capable of verbal response, does that mean we shouldn't engage with them? So, if you're poking fun, we'd ask only that you also spend a couple moments asking: Do I treat plants and animals as divinely created beings?"
A few thoughts ran through my mind as I researched this one. Did the organizer of this chapel take Veggie Tales way too seriously? Could they not take the students outside, instead of snatching a few faculty office plants and throwing them in a pile of dirt? Coincidence there is no TULIP? And just what did they have for lunch after the chapel?
By the way, Bonhoeffer was not impressed with the students at Union during his time there.  He wrote they "are completely clueless with respect to what dogmatics [theology] is really about. They are not familiar with even the most basic questions. They become intoxicated with liberal and humanistic phrases, are amused at the fundamentalists, and yet basically are not even up to their level." Ouch. Wonder what he would have said about praying to plants…
The Far Side returns . . . online: "A new era of The Far Side, the newspaper strip by Gary Larson, is coming. Fans noticed over the weekend that the strip's official website had been updated with a new cartoon and a message: 'Uncommon, unreal, and (soon-to-be) unfrozen. A new online era of The Far Side is coming!'"
You may have noticed I don't mention our current president too often in our brunches. You get enough of that other places, don't you? But the Babylon Bee had an almost perfect satire article this week about a Trump stained glass window at Liberty University.
LYNCHBURG, VA—Liberty University has come under withering criticism after unveiling a Donald Trump stained glass window in the school's newly renovated Worley Prayer Chapel.

The window is featured prominently in the chapel, allowing students and faculty to pray to their lord and savior Donald Trump as they escape the pressures and worries of campus life for a few minutes.

"We wanted the renovated prayer chapel to really help students think about what's important: President Trump and His anointed agenda to make America great again," said school president Jerry Falwell, Jr. "It's important to remain focused and anchored. Now our students can take some time to reorient their hearts and spirits around Trump whenever they want."

Falwell encouraged those attending Liberty University to turn their eyes upon Trump, "and the things of earth will grow strangely dim in the light of His glorious policies."

One small window in the chapel is always open in the direction of Washington, D.C., so students can pray facing Trump.

While Trump's stained glass window occupies the place of honor in the prayer chapel, the spot right in the center where the cross used to be, several other stained glass windows were installed along the walls of the chapel. These windows honor lesser icons of the Christian faith, such as the Republican elephant, the NRA, the wars in Iraq and Afghanistan, and Mike Pence. One particularly powerful piece beautifully depicts Trump's Playboy magazine cover in exquisite colors.

Critics have questioned whether the move was appropriate.

"It seems like they may have gone a little too far here," said one political pundit. "I mean, I get maybe having a small Trump statue or plaque in your place of worship, but a big stained glass window? It seems like that should be reserved for an American flag or something."
Canadian Prime Minister Justin Trudeau was in the news, which is not unusual. But it was bad news: a photo emerged showing him wearing brownface at a party 18 years ago when he was a private school teacher.
Trudeau admitted to wearing the racist costume when he attended an 'Arabian Nights' themed gala at West Point Grey Academy – the private school in Vancouver where he was teaching at the time. He also admitted to wearing black makeup in high school to perform a version of African-American singer Harry Belafonte's song 'Banana Boat Song (Day-O)' during a talent show.
Trudeau acknowledged that he had 'always been more enthusiastic about costumes than is sometimes appropriate'. Which leads to jokes like this:
What are your thoughts on this, friends? On a scale of one to David Duke, how racist was this, and should it keep him from being re-elected? Should there be a "political statue-of-limitations"?
Well, that's it for this week. Let's end with a few more pics of animals quoting Shakespeare.