Hello, friends, and welcome to the weekend. Hungry for some brunch?
As you likely know, Chaplain Mike is hobnobbing across Europe for a few weeks (i believe he is skinny-dipping in Lake Geneva today) and I volunteered to oversee the monastery for him. He promised that tomorrow he will post a few pics (hopefully not of the skinny-dipping). In the mean time, thanks for putting up with my writing this week.
By the way, here is a picture of my writing buddies this afternoon.
Have you heard of The Higher Committee of Human Fraternity? It's a new ecumenical project, seeking to build "a culture of mutual respect and dialogue across all backgrounds, beliefs, and nationalities." In February Pope Francis and the Grand Imam of al-Azhar,  Sheikh Ahmed el-Tayeb, signed theDocument on Human Fraternity for World Peace and Living Together.
One of the first projects the Higher Committee will help guide is the Abrahamic Family House, to be located on Saadiyat Island in Abu Dhabi, the capital of the United Arab Emirates. A reflection of the Document on Human Fraternity, a church, mosque, and synagogue will share a collective space for the first time, serving as a community for inter-religious dialogue and exchange, and nurturing the values of peaceful co-existence and acceptance among different beliefs, nationalities and cultures.
The design of the Abrahamic Family House, by the award-winning and globally-renowned architect, Sir David Adjaye OBE, was unveiled at the New York event. Here is what it will look like:
A Renaissance masterpiece is discovered in a kitchen in France. It was directly above a hotplate. Christ Mocked, by the 13th-century artist Cimabue, who taught Giotto, is estimated to be worth €4m-€6m (£3.5m-£5.3m). The work had for years gone unnoticed in the house of a woman in her 90s near the northern French town of Compiègne. It had been hanging between her open-plan kitchen and her living room, arousing little interest from the family, who assumed it was a standard religious icon. Although it was placed directly above a hotplate for cooking food, the picture was in good condition.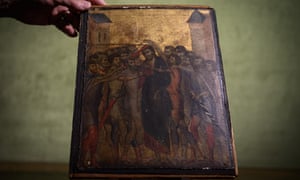 Has the word "evangelical" lost its meaning? Alan Jacobs argues it has in a review of Thomas Kidd's new book, Who Is an Evangelical? The History of a Movement in Crisis.
While traversing frigid Arctic waters, a Russian Navy vessel met its match — a mighty mother walrus defending her calves. Battered by the tusked mammal's attacks, the tugboat Altai sank into the sea, according to the Russian news outlet The Barents Observer. Luckily, the boat's crew of Navy service members and researchers made it safely ashore on a smaller vessel.
Do we need semicolons? Yes, says Joseph Epstein. Do we need a whole book about semicolons? Apparently. Epstein reviews Cecelia Watson's book Semicolon:
The short-story writer , Donald Barthel medescribed the semicolon as 'ugly, ugly as a tick on a dog's body.' In the standard definition a semicolon is a stop of greater emphasis and duration than that of a comma but less than that of a period. A bit vague, hazy, this, is it not? "Do not use semicolons" was Kurt Vonnegut's position on the matter. 'They are transvestite hermaphrodites representing absolutely nothing. All they do is show you've been to college.'
Are UFOs real? In 2017, footage from Navy planes showing "unexplained aerial phenomena" were leaked online. Last week, the Navy confirmed that the footage was real and unedited. But no one seems to care: "If, like me, you claim unofficial membership in the League of Enthusiastic Americans with Slightly Overactive Imaginations, the past few weeks have brought both exciting and weird news. Here's the exciting: The United States Navy has basically admitted that UFOs are real. Here's the weird: Very few people seem to care."
I'm sure KLM meant well. But two of the passengers in this scenario better hope for a smooth ride…
Megatrump supporter pastor Robert Jeffress displays his exegetical chops: "God said he created the environment to serve us, not for us to serve the environment. This Greta Thunberg, the 16 year-old, she was warning today about the mass extinction of humanity. Somebody needs to read poor Greta Genesis chapter 9 and tell her the next time she worries about global warming, just look at a rainbow; that's God's promise that the polar ice caps aren't going to melt and flood the world again."
If I ever become an atheist it's because of pastors like this.
Or "prophets" like Mark Taylor.  "God's been showing me something," Taylor said this week, claiming that an elevator in the Washington Monument getting stuck and an instance in which Pope Francis was trapped in an elevator earlier this month were both "prophetic signs."
"We all know the Washington Monument is a phallic symbol to Baal built by the Freemasons," he said. "We all know the Vatican is demonic."

"What does an elevator actually mean? An elevator means a change in the anointing. Now this is a huge sign, guys, a huge prophetic sign that the Washington Monument—which represents Freemasonry, Illuminati, all these things that we are battling against right now—it stopped. It's a change in the direction of that so-called power."

"Now, let's go back to the Vatican. The Pope's on there. It stops. It's losing power. It stopped because of a loss of power, guys. This is huge! This is a huge prophetic sign that says the Pope has lost power and so his so-called anointing from the dark side has now changed. This is a huge sign for everyone."
Do you remember a study that came out in 2015, which showed that people who grew up in religious households were less generous than those who grew up in non-religious ones. The paper got a lot of attention, being covered by over 80 media outlets. Turns out it was wrong: "Another scholar, Azim Shariff, a leading expert on religion and pro-social behavior, was surprised by the results, as his own research and meta-analysis (combining evidence across studies from many authors) indicated that religious participation, in most settings, increased generosity. Shariff requested the data to try to understand more clearly what might explain the discrepancy." The culprit? A coding error.
Though I'm sure that all 80 of those media outlets will report the mistake…
Why are we fascinated by twins? Helena de Bres, a twin herself, speculates:
In placing pressure on our usual understanding of where one self stops and another starts, such stories raise an interesting philosophical question. What determines how many people exist right now? We tend to assume a one-to-one relationship between persons and bodies. But approaching the question that way might result in under or overcounting, as the case of twins suggests. One possibility is that two (or more) people might share a single body. Conjoined twins are a real-life instance. In myth, we have Hercules, who intermittently took his mortal twin brother's place after Iphicles' death, sometimes appearing as a human, other times as a god. Another possibility is that a single person might be distributed across two (or more) bodies.

The fascination comes from another, opposite source as well. We may tell ourselves that proper human relationships retain a healthy degree of differentiation and separation. But many of us are also, despite ourselves, drawn to the contrary fantasy of the ideal relationship as a kind of merger: one soul, as Aristotle put it, spread over two bodies. We generally reserve this ideal for sexual relationships—"Nelly," Cathy wails, "I am Heathcliff!"—yet surely part of what captivates us about twins is that they seem to embody it too. Arguably, they embody it more purely. Maybe one reason soul-mate twins have to die in literature is that they make singletons morbidly envious.
This seems like a good enough excuse to throw some funny twin pictures your way:
The three hardest things to say:
1. I'm sorry
2. I need help
3. Worcestershire Sauce
A transgender man from Kent who gave birth with the help of fertility treatment cannot be registered as his child's father, the most senior family judge in England and Wales has ruled. Freddy McConnell, 32, who has lived as a man for several years but retained his female reproductive system and gave birth in 2018, went to court after a registrar insisted he was recorded as the baby's mother on the birth certificate despite holding a gender recognition certificate that made it clear the law considered him male.
Sir Andrew McFarlane, the president of the high court's family division, ruled on Wednesday that motherhood was about being pregnant and giving birth regardless of whether the person who does so was considered a man or a woman in law.
"Being a 'mother' or a 'father' with respect to the conception, pregnancy and birth of a child is not necessarily gender specific,"

"There is a material difference between a person's gender and their status as a parent. Being a 'mother', whilst hitherto always associated with being female, is the status afforded to a person who undergoes the physical and biological process of carrying a pregnancy and giving birth.

"It is now medically and legally possible for an individual, whose gender is recognised in law as male, to become pregnant and give birth to their child. Whilst that person's gender is 'male', their parental status, which derives from their biological role in giving birth, is that of 'mother'."
Conservative theologian David Bentley Hart recently published, That All Shall Be Saved: Heaven, Hell, and Universal Salvation. It makes the case for universalism. Douglas Farrow reviews it in First Things. It is a long article, and very informative. Well worth the time to read. I just want to bring out one relevant question for our discussion:
Hart harrows "hell" with panache. And do not fault him for falling carelessly into that "error about mercy" that Augustine rejects, an error "based on human sentiment" (­Augustine's words) that sets mercy against justice. Hart is indeed sentimental, viscerally sentimental, in embracing what Augustine rejects and rejecting what Augustine embraces, but there is nothing careless about it. He thinks it right and just to do so.

On the other hand, he does not address the vital question as to whether, and how far, fallen creatures can trust their visceral feelings and instincts to guide them.
Fair question. What are your thoughts?
So, this is a real thing…
Yes, that's right, friends. Now you can enjoy the savory aroma of highly processed and gelatonized pork scraps mixed with pumpkin and cloves! Hormel even released an assortment of recipes for the Pumpkin Spice Spam. The recipes include a Pumpkin Spice Spam grilled cheese, Pumpkin Spice Spam waffles, and Pumpkin Spice Spam fall vegetable hash. 
Well, that's it for this Saturday. Let's end with some photos of the week, courtesy of the Atlantic.