Hello, friends, and welcome to the weekend. Ready for some brunch? 
Did you overdo it at Thanksgiving? Here is a helpful list of signs that you did:
~ Paramedics bring in the Jaws of Life to pry you out of the recliner.
~ You get grass stains on your behind after a walk, but never sat down.
~ You receive a Sumo Wrestler application in your email.
~ You set off 3 earthquake seismographs on your morning jog Friday.
~ Pricking your finger for cholesterol screening only yielded gravy.
~ Representatives from the Butterball Hall of Fame called twice.
~ Your arms are too short to reach the keyboard & write nasty comments about this.
This is sad: 70% of British youth have never heard of Mozart. 20% think Johann Sebastian Bach is still alive.
Time to re-test the dating of the Shroud of Turin?
For the past 600 years Christians have venerated the Shroud of Turin as a precious relic, a portrait of Jesus, and (perhaps) even proof of the reality of the resurrection. Then, in 1988, three laboratories based at top universities performed radiocarbon analysis of some of its threads. The results were collected and collated by the British Museum in London and published in a splashy article in the prestigious Nature magazine that claimed to offer definitive proof that the Shroud was a medieval fraud.

Oddly the original data was unavailable to researchers. But in 2017, a legal request under the Freedom of Information Act obtained the raw information for the first time. Their results, published recently inArchaeometry, show that the issue of the dating of the Turin Shroud is far from settled.
Three men who were arrested in 1983 and found guilty of murdering a 14-year-old boy in Baltimore were released on Monday. Prosecutors announced that the convictions had been in error and that another teenager had been the real killer. Alfred Chestnut, Andrew Stewart and Ransom Watkins were high school students when they were convicted. Now in their 50s, they had always insisted that they were innocent.In examining old cases, the Baltimore authorities found numerous errors in the investigation. It has become increasingly common for prosecutors' offices around the country to re-examine convictions when evidence suggests that an error might have been made.
Quotable: "Today isn't a victory," said Marilyn Mosby, the state's attorney. "Today it's a tragedy that these men had 36 years of their lives stolen."
"The Avengers," "Frozen" and "Get Out" are among the 10 most influential films of the 2010s, according to our critics. (They also name their favorites.)
Late-night comedy: The hosts noted the White House visit by Conan, the military dog who participated in the raid that killed the Islamic State's leader: "When Trump said, 'Sit, stay and rollover,' every Republican in Congress started doing it," Jimmy Fallon said.
Former Harvest Bible Chapel senior pastor James MacDonald took home more than a million dollars a year according to a financial and legal review the church released Thursday night. In 2015 the executive committee approved an overall compensation package of $1.24 million for MacDonald; that rose to $1.37 million in 2016 and $1.387 million in 2017. The 2019 package was supposed to be $1.27 million, the report says.
Part of this was an  incentive bonus for ending the year with a net money surplus, more people attending church, and more major gifts than the targeted amounts. Because he did so in 2016 and 2017,  MacDonald took home a total of $273,125 in incentive bonuses over the course of those two years.
By the way, even though Harvest has officially proclaimed McDonald "unqualified" for ministry, he is looking to start preaching again early next year. This is from his new website:
We have also been welcomed by New Life Covenant Church in Humboldt Park, Chicago, a multi-ethnic church under Pastor Wilfredo DeJesus. New Life has embraced us fully, offering us a place to serve as volunteers and time to heal. Early in 2020, around the anniversary of my last local church sermon, we will begin considering interim preaching opportunities.
On the first full day of his tour of Japan, Pope Francis visited Hiroshima and Nagasaki and delivered a clear message: possessing or deploying atomic weapons is immoral.
"Peace and international stability are incompatible with attempts to build upon the fear of mutual destruction, or the threat of total annihilation," Francis said in an address in Nagasaki. He spoke at the site where the United States exploded an atomic bomb in 1945, killing 74,000 people by the end of that year. "The use of atomic energy for purposes of war is immoral," he said Sunday. "As is the possession of atomic weapons."
The 33,000-member New Creation Church (In Singapore)led by charismatic televangelist Joseph Prince has decided to buy a small piece of property near their church campus. It looks like this: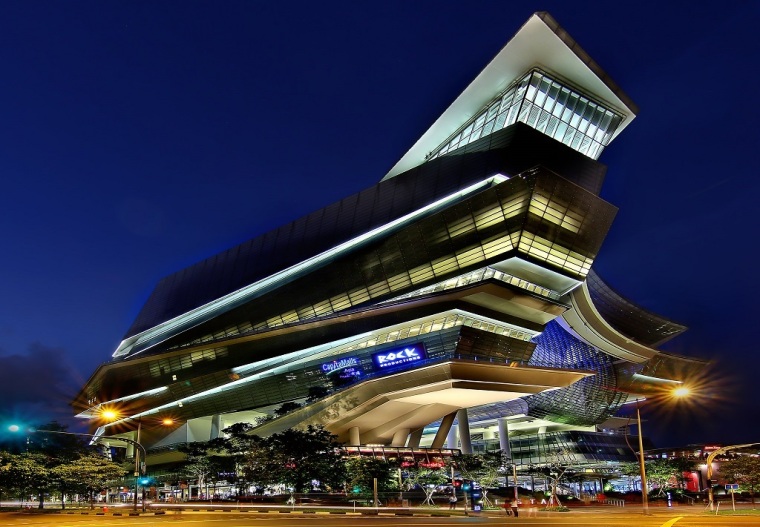 This is the Star Vista, an iconic shopping mall. It was a steal at only 217 million dollars. The church needed no funding drive, because they already had the cash on hand. And really, why wouldn't they?
Besides the price must have seemed like a steal compared to the 500 million they paid for their auditorium in the same campus:
President Trump pardoned two turkeys, named Bread and Butter, as part of the annual White House Thanksgiving tradition. No word yet on if they will return the favor.
Kevin Williamson visits a flat-Earth conference in Texas: "As flat-Earth writer Noel Hadley tells me, 'Satan runs everything: music, Hollywood, media, Republicans, Democrats, Washington, Israel, Zionism. . . .' They know Satan when they see him. But they don't know what the Earth looks like — only that it is not round. And that if people only understood that, then they would . . . change their diets, and vaccine companies would go out of business, as one speaker insisted. 'We don't believe in a flying pancake in space,' says exasperated conference organizer Robbie Davidson, a Canadian conspiracy hobbyist, 'and we don't believe you can fall off the edge of it.' But what does the Earth actually look like? That, apparently, needs "more investigation," in the inevitable dodge uttered from the stage." 
Do cows need virtual reality? Do cows want virtual reality? Moscow-area farmers strapped modified VR headsets to cows to see if it improved their mood — and, of course, their milk production. The project subjected cattle to a simulated summer field with colors tuned for the animals' eyes, giving them a decidedly more pleasing landscape than a plain, confining farm.
It appears to have worked, at least on a basic level. The first test reduced the cows' anxiety and boosted their overall sentiment. While it's not certain how well this affects the quality or volume of milk, there are plans for a more "comprehensive" study to answer that question.
They will also try other VR type activities:
Madeleine Kearns writes about how transgender activism ruins the lives of children:
"The Younger case has gained much media attention, in the U.S. and beyond. The New York Times, the Washington Post, and the BBC all seem to cast the father as the villain, in particular for his refusal to agree that his child is transgender. Rolling Stone opines that the Younger story has become a 'terrifying right-wing talking point.' Vox is worried about Republican state legislators' trying to introduce bills prohibiting chemical and surgical interference with the sexual development of children who say they're transgender, and 'what [this] could mean for families nationwide' when 'legislators want to have a say in whether Luna Younger should be allowed to socially transition.' For the Left, the Younger story is a tale of backwards attitudes victimizing a child.
There are three clinical approaches to helping children who exhibit symptoms of gender confusion. One involves a range of talk therapies and psychotherapies to address suspected underlying causes. A second, called 'watchful waiting,' allows the child's development to unfold as it will, which may mean that he chooses to transition later or not at all.
"Then there is a third option — informed by an ideology according to which it is possible for a child to be 'born in the wrong body.' In this option, clinical activists recommend a drastic response when a child expresses confusion about gender. First, parents should tell the child, however young, that he truly is the sex he identifies with. Second, parents should consider delaying his puberty through off-label uses of drugs that can have serious (and largely unstudied) side effects. Third, parents should consider giving their child the puberty experience of the opposite sex, through cross-sex hormonal injections and gels (which result in sterility). Finally, parents should consider greenlighting the surgical removal of their child's reproductive organs.
"Since there are no objective tests to confirm a transgender diagnosis, all of this is arbitrary and dependent on a child's changeable feelings. To make aggressive treatment more acceptable, its advocates have come up with a media-friendly euphemism, 'gender affirmation.' If it's affirming, activists say, it's also kindness, love, acceptance, and support. The opposite, trying to help a child feel more comfortable with his body, is a rejection: abuse, hatred, 'transphobia,' or 'conversion therapy' likely to lead to child suicide. This is a lie — a lie designed to obscure a critical truth: that neither a child, nor his parents on his behalf, can truly consent to experimental, life-altering, and irreversible treatments for which there is no evidentiary support."
Qualified for the December debate*

INDIVIDUAL CONTRIBUTIONS†

27

%

$

37.6m

#1

22

%

$

49.8m

#2

18

%

$

61.5m

#5

8

%

$

51.5m

#4

4

%

$

35.5m

#6

3

%

$

15.1m

#12

3

%

$

13.9m

#7
Have you heard of HipDict, the crowdsourced dictionary that defines what we're really saying when we use everyday words, or maybe you're already following it?  Here are a few samples:
Well, that's it for this weekend. Have a great Saturday, friends.