The IM Saturday Monks Brunch: February 8, 2020
Hello, friends, and welcome to the weekend. Ready for some brunch?
You know what? On January 25th Internet Monk hit 300,000 comments, on roughly 6500 posts since January 2004. Pretty cool.
The Kansas City Chiefs scored three touchdowns in the fourth quarter to come from behind and beat the San Francisco 49ers, 31-20, in Super Bowl LIV on Sunday. It was the Chiefs' first championship since the 1969 season. Kansas City's 24-year-old quarterback, Patrick Mahomes, became the youngest player to be named the Super Bowl's most valuable player.
Of course, the superbowl is the time when many companies introduce their new commercials, spending over 4 million for the privilege. Here are two of my favorites. The first is a throwback to one of my favorite movies:
The second almost had me in tears (hard to do when you've got a living room of teen boys from church watching with you). My step-mother is suffering from dementia and memory loss, and I am working on arraigning her care. So this struck close to home:
You likely didn't hear, but Jennifer Lopez and Shakira led a hip-shaking, controversial half-time show.  I had to turn it off (remember my living room was full of teen boys). Lopez promised the show would be "family friendly". Um…J-Lo, I'm not sure what kind of "family" you're used to:
Yes, I know…I'm a prude. Jesus loves prudes too.
But at least I'm not as bad as vlogger Dave Daubenmire, who wants to sue the NFL for putting him in danger of hellfire:
"I think we ought to sue.

"I think we ought to go sit down in a courtroom and present this as evidence of how whoever [put on the halftime show] is keeping me from getting into the kingdom of Heaven. Could I go into a courtroom and say, 'Viewing what you put on that screen put me in danger of hellfire'? Could the court say, 'That doesn't apply here because the right to [produce] porn overrides your right to [not] watch it'? Yeah, well, you didn't tell me I was gonna watch it! You just brought it into my living room. You didn't tell me there were gonna be crotch shots!"

Daubenmire declared that the halftime performance was a blatant example of anti-Christian discrimination because he should be able to watch the Super Bowl without having to see things that conflict with his values.

"That's discriminatory against the value I have in my house. You can't just do that," he argued. "I wanna sue them for about $867 trillion."
Daubenmire appears to be quite serious, as he posted a follow-up video on Facebook saying that he is looking for a lawyer who will file a class action lawsuit against Pepsi, the NFL, and his local cable company on his behalf.
If you really, really want to watch it…knock yourself out. But I'm not responsible for the loss of any brain cells, so don't sue me.
Like I said, I didn't watch it; but how can ANYONE get turned on by this? What am I missing?
Better-than-average puns of the week:
~ Without geometry, life is pointless.
~ When you dream in color, it's a pigment of your imagination.
~ In democracy it's your vote that counts.  In feudalism it's your count that votes.
~ A plateau is a high form of flattery.
Heading to Indonesia by chance? Want to do a good deed, and get a reward in the process? All you have to do is pick up and dispose of one measly motorcycle tire, and provincial authorities will give you some cash (amount undisclosed). How hard could it be?
It's not every day that you come across not one but two interesting pieces on Bigfoot. Tom Jokinen writes about searching for unseen things in The Literary Review of Canada: "On all three coasts of Canada, and places in between, there are sites of mystery, where things live but are not seen, where things exist as rumour. This just adds to their power: the fairies of Newfoundland, the Manipogo of Lake Manitoba, the sasquatch of the West Coast. In Toronto, the only comparable myth is the 29 Dufferin bus, whispered about but never seen. Mostly, though, the tales of cryptids belong to the deep wilds and waters, and they are persistent. Sasquatch has been a star since 1967, when the famous Patterson-Gimlin film purportedly captured what came to be known as Bigfoot, in Northern California. The creature looks at the camera. Is it real? Or a man in an ape suit? The grainy footage is a moving Rorschach test: the figure is what you want it to be."
In The New Atlantis, Clare Coffey reviews Linda Godfrey's I Know What I Saw: Modern-Day Encounters With Monsters of New Urban Legend and Ancient Lore. The book is "something between a bestiary, a campfire tale collection, and a cryptozoology field report. It is a haphazard survey of extant American monster legends in the tradition of William T. Cox's 1910 book Fearsome Creatures of the Lumberwoods. But where Fearsome Creatures is a work of imaginative extravagance and linguistic invention (the Tote-Road Shagamaw is my personal favorite), I Know What I Saw grounds an investigative bent in first-person accounts. Most of the loosely organized sections deal with a broad monster genus — werewolves, mystery cats, Bigfoot, little people — or a more specific local apparition, like the goat-man of Roswell, New Mexico."
60 years of independence:  Above, the newly crowned Miss Independence, Rosemary Anieze, in Lagos, Nigeria, in 1960. Seventeen countries in Africa declared their independence that year; You can revisit this with the help of The Times's photo archive and others.
Shower thoughts of the week:
All numbers are closer to 0 then they are to infinity.
The truest example of Pavlovian conditioning is that every time you hear 'Pavlov' you automatically think of a dog.
The Moon is the most amount of land most humans will ever see at once.
If the telephone had been invented after email, we would have thought it was a vast improvement in communication.
It must be hard for dragons to blow out candles.
If life is a game, gravestones are participation trophies
UFO's may actually be tourist carrying cruise ships from future.
What's the worst place in the world you've driven? Mumbai would be on my list, I think, if it weren't for the fact I've never been to India. Mumbai was recently ranked as the fourth most congested city in the world, according to the TomTom traffic index, with 65% congestion and drivers spending an average of eight days and 17 hours in traffic each year. Worse, it is also "the honking capitol of the world". Police are testing out an interesting solution:
You may have to squint to  check out the obituary of this life-long Cubs fan, but the last paragraph is worth it: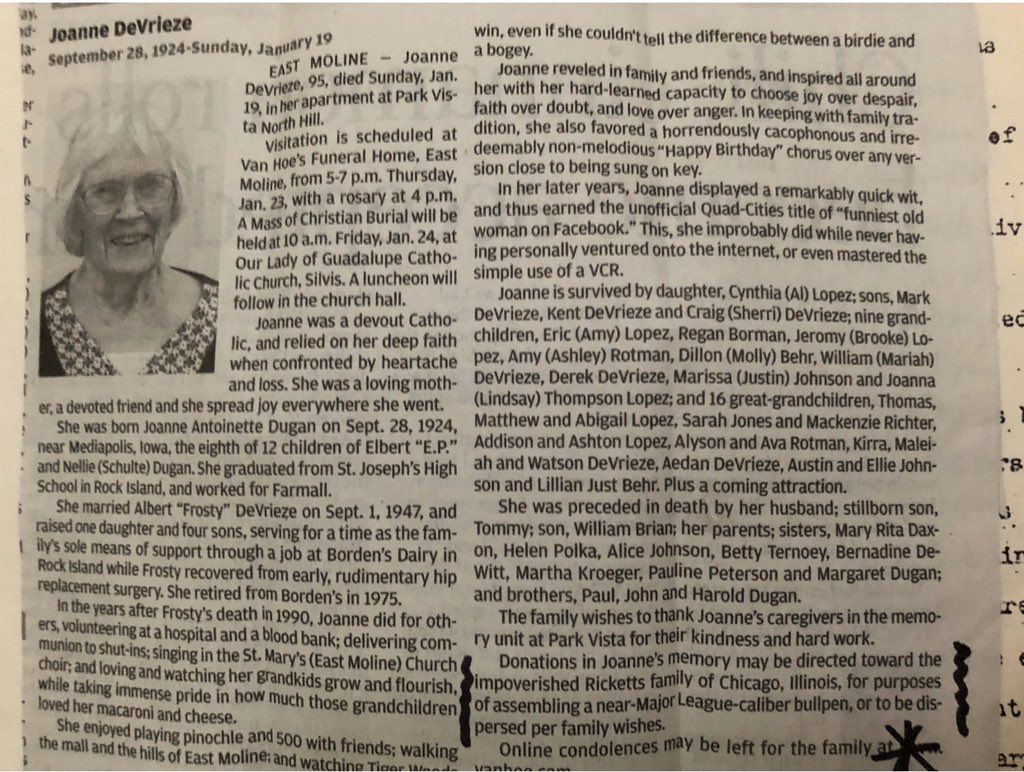 A man has been found guilty of trying to steal a copy of Magna Carta from Salisbury Cathedral. Mark Royden, 47, from Kent, used a hammer to try to smash through the protective case around the 805-year-old document but failed to take it. Royden was arrested after being chased and detained by "good-spirited" members of the public as he attempted to leave. Royden apparently thought he was auditioning for National Treasure 3: Brexit.
A rare olm salamander reportedly stayed in the same spot in its cave in Europe for seven years, researchers say in a new study. Such intertia apparently isn't uncommon for the species, as divers documenting the movements of olms in Herzegovinian caves found that over a decade, many of the animals tended to move less than 33 feet in total, according to the Independent.
The blind, cave-dwelling animals are forced to move to mate, which they do about every 12 years, according to the study, which was published in the Journal of Zoology. The olms "are not highly gregarious, have no predators, are highly resistant to starvation – able to go without food for several years – and live in complete darkness underground and underwater," the Independent said. And they can reportedly live as long as 100 years.
"They are hanging around, doing almost nothing," Gergely Balázs at Eötvös Loránd University in Budapest, Hungary, told New Scientist.
I think the Road Workers Union of American has finally found its mascot.
That's it for this week, friends. Let's end with a Brit making fun of us Yankees.