Hello, friends, and welcome to the weekend. How about some brunch?
I told my wife I wanted a book for Christmas. Just a book. Nothing else. And, no, not some first rare first-edition Tolstoy or something; just an art book that is coming out this month. So she was happy to agree.
But I might need a bigger bookcase:
That, my friends, is a three-volume collection of photos from the Sistine Chapel. What makes it special?
It is printed at 1 to 1 scale. You get the same size as it was originally painted.
A team of photographers visited the chapel over 67 consecutive nights while it was closed off to the public. They used a 33-foot-tall scaffold and rig.
They took 270,000 separate ultra-high def digital photos.
Those photos were then seamlessly stitched together using special imaging software to create gigapixel images.
the book contains 822-pages across three volumes that each measures 24×17 inches (61x43cm) and [each] weighs 25 pounds (~11.3kg).
The book is printed on Fedrigoni Symbol Tatami paper with spines in white calf leather debossed in silver, gold, and platinum foil stamping. I don't know what half of that means, but it sounds impressive.
Only 1,999 copies of this book are being published worldwide, with only 600 sets in English, and there will never be a reprinting.
Here are some pics.
Now, how much will this little thing set back my dear wife? Only $22,000. She doesn't know that yet. But, hey, that includes postage and shipping, so there's that.
Norway has made "Biphobic, Transphobic Speech" illegal." More specifically, "The penal code states that those who are guilty of hate speech face a fine of up to a year in jail for private comments, and a maximum of three years in jail for public remarks. Furthermore, those charged with violent crimes that are motivated by a victim's orientation or gender identity will receive harsher sentences."
So, a private comment deemed hateful to an LGBT person or persons could get you a one-year jail sentence. Make this comment in public, and you're looking at three years in jail, the same penalty for third-degree murder (meaning, by neglect) in Norway.
Supporters of the bill note that "for prosecution comments must be direct attacks against LGBTQ+ people or include language that intentionally dehumanizes them to the public."
But would quoting relevant verses from the Bible cross that line? Would stating that there are only two sexes cross that line? Would denying the term "marriage" to a same-sex union cross that line?
And just who gets to decide which "speech" will land you in jail?
And which kinds of speech will land you there 10 years from now?
Did you know North Korea sent boatloads of ballots into a harbor in Maine before the U.S. election? Totally true. No less an authority than Roger Stone, the dude convicted to lying to investigators in the Mueller probe, has let the cat out of the bag.
"I just learned of absolute incontrovertible evidence of North Korean boats delivering ballots through a harbor in Maine, the state of Maine. If this checks out, if law enforcement looked into that and it turned out to be true, it would be proof of foreign involvement in the election."
So many questions, here:
If the evidence is absolutely incontrovertible, then…where is it?
Wouldn't Kim want his buddy Trump to win anyway?
So North Korean boats can now dump stuff off in Maine and not only are they not stopped, but the president doesn't even know about it?
Wouldn't North Korean boats maybe go to a harbor on the same ocean as North Korea? Or did the crew have a craving for lobster?
Soooo many questions.
J.R.R. Tolkien's Oxford house is up for sale: "The longtime home of the author J.R.R. Tolkien is about to re-enter the market, and a crowdfunding campaign has been started with hopes that Lord of the Rings and Hobbit fans will support an initiative to purchase, restore and turn the property into a Tolkien museum." It's a cool house, but I'm not sure how Tolkien himself would feel about it.
The more things change, the more they stay the same: "The best thing about reading lively narrative histories is the realization that we do not, in fact, live in uniquely strange times. The last few years have been unsettling, to say the least; but as Matthew Lockwood reminds us in his new book To Begin the World Over Again, so were the 1770s, '80s, and '90s. In his lengthy, leisurely study, he takes his readers from the eye of the storm in North America and London to the myriad lands that were affected by the American War of Independence, demonstrating that "a local protest over taxes in a remote corner of North America would end on the streets of Dublin, the mountains of Peru, the beaches of Australia, and the jungles of India." Lockwood draws a moral from this spectacle and lays it out in his introduction: 'Examining the revolution from a truly global perspective, both geographically and thematically, forcefully reveals the often tragic interconnectedness of the world, compelling us to contemplate ourselves in an entangled world rather than as an isolated, excep­tional chosen people. Removing the blinkers of a narrowly national political point of view opens new horizons of understanding, allow­ing us to realize the most urgent lesson taught by America's founding moment: American actions have, and have always had, unforeseen, unimagined global consequences.'"
This picture, taken last month, is of a 27-year old woman. Okay, not really. But she was conceived 28 years ago. Molly Gibson, a Tennessee baby born in this fall to Ben and Tina Gibson, set the record for the longest-frozen embryo to result in a live birth, more than 27 years. The previous record was set in 2017, when Molly's older sister, Emma, was born after an embryo from the same donor couple was implanted in Ms. Gibson.
"Both pregnancies went smoothly," Tina said. "Both are perfectly healthy." The age of the embryos is something the couple now laughs about. "We always joke that Emma is an old soul. She does something and I'll say, 'That's the '90s baby coming out in you.'"
If you watch only one filipino cola ad made by insane middle-schooler boys on meth, make sure it's this one:
One of the largest examples of ancient rock art has been discovered in the Amazon.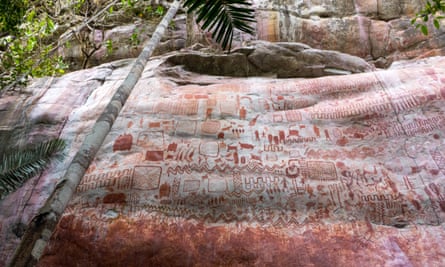 "Hailed as "the Sistine Chapel of the ancients", archaeologists have found tens of thousands of paintings of animals and humans created up to 12,500 years ago across cliff faces that stretch across nearly eight miles in Colombia. Their date is based partly on their depictions of now-extinct ice age animals, such as the mastodon, a prehistoric relative of the elephant that hasn't roamed South America for at least 12,000 years. There are also images of the palaeolama, an extinct camelid, as well as giant sloths and ice age horses." There are more pictures here. And don't tell Ken Ham.
Did you know that every year a group hosts the annual comedy wildlife photography awards? Let's end with some of their finalists for 2020.