Hello, friends, and welcome to the weekend. You know what we haven't had for a while?  Brunch!!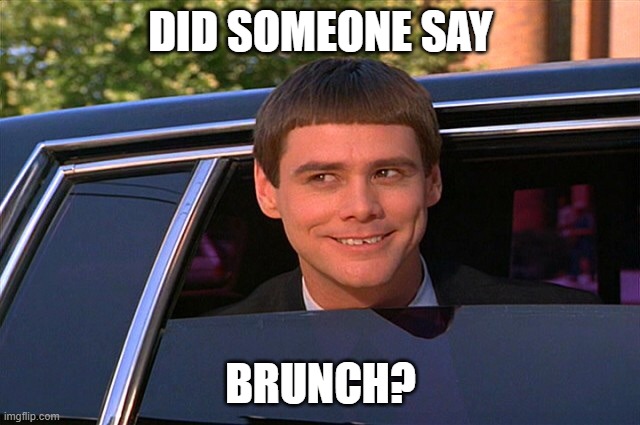 As usual, I'm not going to bring up the subjects dominating the headlines. The Brunch focuses on the interesting (at least to me), the silly, and the un-reported. I also avoid mentioning a certain politician because, inevitably, the comment section gets nastier than Jabba the Hutt's tighty-whities. If you want to comment about these things, please do your best to be constructive and kind.
But one picture stuck with me:
Facebook chooses polarization.  An internal Facebook analysis found that the platform was helping polarize the country, but senior executives decided to shelve the analysis and not take action, The Wall Street Journal reported. One presentation given to senior executives warned that "if left unchecked," Facebook would feed users "more and more divisive content in an effort to gain user attention & increase time on the platform."
Kevin Roose, a technology columnist at The Times, explains: "It raises the possibility that these presentations — and others like them — will come to be seen as a smoking gun for Facebook, the way that tobacco and oil companies had known about the hazards of their products years before they publicly admitted it."
"DO NOT RECYCLE CANNONBALLS FROM ANY WAR!" That is the PSA Kent County Commissioner [MI] Phil Skaggs relayed in a Facebook post Tuesday evening. This after Grand Rapids police officers were dispatched to the Kent County recycling center at 12:20 p.m. Tuesday when workers came across what was described as a 6-inch, 6-pound shot-put ball on the processing line, according to the police report.
Officers on site found the cannonball was live and likely a percussion-cap style detonator and subsequently evacuated the center, according to the report.
It must be a blow to learn that you're not the daughter of a famous artist and that your mother was a bit of fibber in the same moment—especially if you're a psychic and didn't foresee either. Pilar Abel, a Spanish tarot card reader from Girona, won the right to exhume Salvador Dalí's body in 2017 to run a DNA test to prove that she was his daughter. Her mother had told her that the artist was her father. Alas, the test showed there was no relation. "After the Madrid court ruled that Dalí was not related to her, Abel filed an appeal calling into question how his remains were handled. On Monday May 18, the Regional Court of Madrid dismissed this appeal, and ruled that Abel was liable for the costs for the exhumation. While no amount was cited, the bill had been previously been estimated to be around €7,000 ($7,678)."
Good question. Better answer.
YouTube was caught censoring content on behalf of the Chinese government. Certain phrases are automatically deleted, suggesting that the Youtube algorithms were set to exclude them. One of the phrases that were flagged for automatic deletion was "gongfei," which means "communist bandit." The phrase dates back to the Chinese civil war era.
Another phrase is "wumao," which means "fifty cents."This phrase is commonly used as a description of the internet trolls that the CCP uses to spread propaganda online; the joke being that the trolls are paid 50 cents per post that they write.
YouTube responded that the deletions were a "bug". Sounds legit.
You've probably heard of the Ghanaian dancing pallbearers. If not, here is the original video that made them famous (and a source for countless memes).
I bring them up so I can bring this up: Montreal Police cruising through a crowded park playing the dancing pallbearers theme song:
A short history of band names:
You wouldn't have thought that Starbucks's pricing policy could influence rock history, but that's what happened. In the early 1990s, when Mike Kroeger was working in one of its Canadian stores, a cup of coffee cost $1.95. So Kroeger spent all day handing customers their five cents change, saying: 'Here's your nickel back.' When he later joined a band, and it needed a name, he simply combined the last two words into one.

Neil Tennant and Chris Lowe, on the other hand, had some friends who, because of their place of employment, were known as the 'pet shop boys'.

ABBA use capitals not because the letters are the first of their four Christian names, but because there was a brand of canned fish called Abba. Lynyrd Skynyrd was a reference to Leonard Skinner, a teacher who'd told one of the band members to cut his hair.

Many bands use cultural references. Duran Duran tweaked Dr Durand Durand, a character in the film Barbarella, 'Frankie Goes Hollywood'  was a newspaper headline in a pop art poster about Frank Sinatra taking up acting, while the Human League were characters in a sci-fi wargame.

Literature has given us, the Doors (as in The Doors of Perception by Aldous Huxley), The Fall (by Albert Camus) and Level 42 — the answer to the meaning of life, the universe and everything in The Hitchhiker's Guide to the Galaxy.

Some bands even owe their names to other bands.  The Ramones were paying tribute to Paul McCartney, who used the pseudonym 'Paul Ramon' when checking into hotels. The Beatles themselves had been paying tribute to Buddy Holly, whose backing band was the Crickets.

If all else fails, go random. The Bay City Rollers wanted an American-sounding name, so literally threw darts at a map of the country. But thankfully discretion didn't desert them completely. Before they hit Bay City, Michigan, they rejected somewhere in the Deep South called Stinking Creek.
And you thought your weekend stunk….The California Highway Patrol said a driver called dispatch around 1:30 a.m. asking for help after crashing into what was at the time an unidentified farm pond. Forty-eight minutes after the initial call, firefighters from the Cosumnes Fire Department found the driver and his vehicle, which was well submerged in the pond, CHP said. Officers later discovered that — on top of showing signs of intoxication — the driver had been trying to pull his vehicle out for about an hour before calling 911.
That's two hours the driver spent in…. a liquefied excrement pond.
Even New York, the city with the world's highest known infection rate, is barely a third of the way there, according to the studies.
By The New York Times
Speaking of adapting to the Corona reality:
These priests may have been inspired by Detroit's Father Timothy R. Pelc, who took to the streets outside his church in order to bless Easter food with a holy pistol last month. Yes, he really did use holy water.
Pelc says that even though he has baptisms scheduled for this week, he does "not intend to use the squirt gun," saying, in true Catholic fashion, that he's "retired it because I've enjoyed it so much."
An explosive new book claims that Bill Clinton had an affair with Ghislaine Maxwell, the woman accused of procuring underage girls for notorious pedophile Jeffrey Epstein. In an excerpt of A Convenient Death, published in the New York Post, a source tells Alana Goodman and Daniel Halper how '[Bill] and Ghislaine were getting it on…that's why he was around Epstein — to be with her.' The source goes on to dismiss the idea that Clinton was sexually involved with children, saying the former president is 'stupid but not an idiot.' Conspiracy theorists everywhere will be sorely disappointed.
Father's Day is coming up, and boy-oh-boy have we have found the perfect gift: A jockstrap that belonged to Elvis Presley is up for sale for almost £30,000. The rhinestone-studded posing pouch, bearing The King's initials, was custom-made by one of Elvis's fans
The seller called it:"Extravagant. Absurd. Sexually potent. This… is pure Elvis Presley." He also noted that the King wore it until his death in 1977. Which, to me, is not exactly a selling point.
The problem with thought experiments: "While thought experiments are as old as philosophy itself, the weight placed on them in recent philosophy is distinctive. Even when scenarios are highly unrealistic, judgments about them are thought to have wide-ranging implications for what should be done in the real world. The assumption is that, if you can show that a point of ethical principle holds in one artfully designed case, however bizarre, then this tells us something significant . . . Although philosophers don't often talk about this, it would appear that they assume that the interpretation of thought experiments should be subject to a convention of authoritative authorial ethical framing. In other words, the experiments are about what the author intends them to be and nothing else, much like Lewis Carroll's Humpty Dumpty, who used words to mean whatever he wanted them to mean."
Somehow this reminds me of a line I heard not too long ago: "Imagine their were no hypothetical situations."
Is it just me, or do you refuse to read anything called a "must-read".
Hmmm….Was there ANYTHING this man did not write about ?
Well, that's it for this week, friends. Let's end with this short video, which gets more interesting as it goes: